If you're looking for an indulgent dessert then look no further. Sooji halwa is a delicious, semolina pudding. Velvety smooth and decadently sweet it's enough to drag anyone into the depths of temptation. A real labour of love and tricky to get right but once you've mastered it you'll be amazed.
Sooji Halwa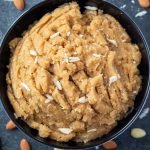 Ingredients
3/4 cup melted butter

1tsp ground green cardamoms

2 cups course semolina

2 cups sugar

4 1/2 cups boiling water

2 eggs

Flaked almonds to garnish
Instructions
1. Stir sugar into the boiling water until dissolved. Set aside.
2. Crack eggs into a bowl and break yolks up but do not whisk. Set aside.
3. Place butter, ground cardamom and semolina into a pan on a medium heat and stir continuously until semolina turns golden brown. Take care not to burn the semolina and adjust your heat if necessary. This can take up to 8 minutes so be patient and check out your bicep afterwards 🤣
4. Pour sugary liquid into semolina pan and stir continuously until water is thoroughly mixed in. Reduce to a low heat.
5. As mixture starts to thicken a little, stir in eggs until fully combined and fully cooked leaving tiny strands of white in the halwa.
6. Remove from the heat and transfer to a serving dish, garnish with flaked almonds and serve immediately.
Notes
The eggs are optional. I like the addition as it really gives the halwa a lovely flavour and consistency.