I love the different textures and flavours this simple salsa has to offer. It's so versatile that it can be paired up with whatever you like or you can have it as a simple meal or snack in it's own right. We love it with our burritos or fajitas, The delicious zing of the limes and the heat of the chilli is simply divine and the chilli usually sends the kids running for the hills….Bonus! 🙂
Mango Salsa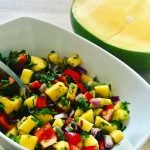 Ingredients
1 firm mango

1 large red pepper

1 bunch of spring onions (scallions)

1 small red onion

8 stems of fresh coriander

juice of 2 limes

1/2 tsp red chilli flakes (or to taste)

pinch of salt

freshly ground pepper
Instructions
 De-seed and dice the red pepper and mango into bitesize pieces and transfer to a mixing bowl.
Finely chop the spring onions, red onion and fresh coriander (stalks included) and add to the mixing bowl.
Gently stir in the lime juice and chilli flakes.
Transfer to a serving dish and sprinkle on salt and pepper just before serving.
Notes
If you want to make things a little more interesting or if you fancy having this as a meal in itself, then add 1/2 a cup of sweetcorn and a diced avocado, stir it into the mango salsa and serve on a bed of your favourite greens. I love this on a plate of rocket leaves and watercress. Delicious!