So I have one of those annoying fridges that freezes anything that comes into contact with the back of it. Today I pulled out two frozen bags of fresh basil. In my bid to not waste it I decided to chuck it into my beef burgers and hoped for the best… as you do. Well BEST DECISION EVER! My burgers were freakin amazing before but now they're out of this world! Use my 'sourdough' bread recipe to make the bread rolls too and you'll be ditching fast food permanently… maybe.
Beef Burgers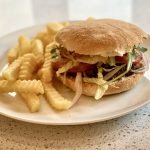 Ingredients
500g minced beef

1 tsp salt (or to taste)

1 tsp black pepper

1/2 tsp ground cumin

1/2 tsp red chilli flakes

1 hpd tsp ground coriander

1 tbsp garlic paste

40g basil, finely chopped

1 small onion, peeled and finely minced
Instructions
1. Mix all the ingredients together in a bowl. 
2. Split into four equal amounts and form into burger patties approx 10-12 cms in diameter. 
3. Cook on a lightly greased skillet in low-medium heat for 5 minutes each side. 
4. Sprinkle on grated cheese of your choice and cover pan with a lid for 2 minutes and allow cheese to melt.  (This is optional).
5. Remove from heat and rest for one minute before eating. 
Notes
You can make the burgers as big or as small as you like. These make quite hefty burgers big enough to satisfy an adult appetite.