Hummus has to be one of my favourite things to eat in the world. It's so versatile and packed full of flavour that it can liven up a stick of celery! My own recipe is super quick, so easy and totally badass you'll never need shop bought again.
Hummus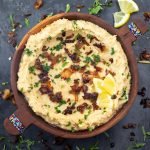 Ingredients
2 400g tins drained cooked chickpeas (retain liquid)

Juice of 2 lemons

1 tsp ground cumin

1/2 tsp salt

Pinch of cayenne pepper

1/4 cup extra virgin olive oil

1 tbsp tahini

1 clove crushed garlic (optional)
Instructions
1. Blitz all the ingredients together in a processor until smooth. 2. Use the liquid from the chickpeas if the mixture is looking too thick. Add liquid gradually until desired thickness is achieved. 3. Transfer to a serving dish and drizzle with extra virgin olive oil. 4. Sprinkle with the topping of your choice or leave plain….because let's be fair no toppings are needed when hummus tastes this good!
Notes
Top with caramelised onions, pesto, jalapeños or chopped parsley...whatever tickles your fancy!