My favourite food to eat lately, I can't seem to get enough of it. Chicken in mushroom sauce goes great with a side of herby potatoes and lightly steamed, al dente vegetables of your choice…..my favourites are long stem broccoli and baby carrots. It's a bit faffy but relatively quick once all the prep is done. You'll love it I'm sure, just make sure you have breath mints at the ready because there is a ton of garlic in this!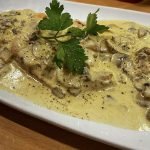 Ingredients
For the chicken:
1 tbsp butter
6 small chicken breasts
1 medium white onion, diced
4 cloves garlic, pureed or crushed
salt and pepper for seasoning
1 tsp dried oregano
1 tsp dried basil
white wine (optional)
For the mushroom sauce:
2 tbsp butter
600g button mushrooms, sliced
6-8 cloves of garlic, pureed or crushed
salt and pepper for seasoning
1/2 tsp oregano
1/2 tsp basil
300ml creme fraiche
Instructions
For the mushroom sauce:
Melt the butter in a non stick pan over a gentle heat.
Stir in the crushed garlic and allow to combine in the butter.
Stir in all the mushrooms, until fully coated in the butter and garlic. continue to cook over a gentle heat until water is released from the mushrooms.
Add salt and pepper to taste (I used 1/2 tsp pepper and 1/2 tsp salt) and the oregano and basil.
Finally gently stir in the creme fraiche and allow to come to a gentle simmer.
Remove from heat and set aside while you prepare the chicken.
For the chicken:
Melt the butter in a large flat based pan large enough to hold all the chicken breasts.
Stir in the diced onions and brown gently.
Stir in the garlic, basil, oregano, salt and pepper (again I used 1/2 tsp of salt and pepper here) until fully combined with the onions.
Place the chicken breasts in the pan and cook over a medium heat for two minutes before turning them over and cooking the other side for a further two minutes.
Reduce heat, cover and simmer for 15 minutes.
Remove lid, pour over the mushroom sauce from earlier, cover again and leave the chicken to simmer in the creamy sauce for a further 15 minutes, or until the chicken is fully cooked through and tender. You can stir in a little white wine at this stage if you like.
Once cooked, remove from the heat and gently stir the chicken breasts into the sauce so that they are fully coated in all that creamy goodness. 
Serve with a side of potatoes and veg for a delicious, sumptuous meal.
Notes
You may need to adjust the cooking time for your chicken depending on the thickness of the cut. The thicker they are the longer the time.