When you're running low on time or low on viable ingredients then tuna pasta is a win, win! I mean who doesn't have a tin of tuna hanging about the back of the cupboard, right? Pasta is always a winner with kids too so thats a double whammy. Quick, easy and liked by all….look no further.
If you have any comments, I'd love to hear them!
Tuna Pasta Bake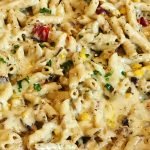 Ingredients
1 diced white onion

1 tsp garlic paste

2 cups sweetcorn

10-12 small broccoli florets

small de-seeded and diced red pepper

2 240g tins tuna chunks in oil

1 tsp salt

3/4 tsp ground black pepper

handful chopped parsley

300 mls fresh double cream

handful grated Cheddar cheese

200g cream cheese

750g penne pasta
Instructions
Preheat the oven to 230 degrees.
Set the pasta to boil in a large pan.
Drain the oil from the tuna tins into a non stick pan to use for cooking.
Heat the oil and add the chopped onions to the pan and cook on a low-medium heat until golden brown.
Stir in the garlic paste and cook on a medium heat for a minute.
Add the salt and pepper and stir in the broccoli florets along with 1/2 cup of water. Cook on a high heat for 2 minutes until water evaporates and broccoli begins to soften a little.
Stir in the tuna, red peppers and sweetcorn and cook for a further 3 minutes on a high heat, stirring continuously.
Pour in the double cream, bring to a gentle boil and stir in the cream cheese until completely mixed in.
Drain the cooked pasta and stir into the creamy sauce along with the chopped parsley.
Transfer the pasta into an oven proof dish, sprinkle on the grated Cheddar cheese and bake in the hot oven for 5-6 minutes until the cheese has completely melted.
Notes
I'm all for simple and I love this pasta dish, but since I try to steer clear of wheat, I use a wheat free pasta and cook it until it's just al dente so it retains a good texture in the sauce. To top it off, I like to sprinkle finely chopped green chillies over the top once it comes out of the oven.....we like all things hell fire in this house, including pasta 😉