I love my tortilla chips and this salsa is the perfect dip to go with them. A perfect mix of green and red with lashings of fresh green chillies and zingy lemon juice. If you thought you knew what moreish was, wait until you get a load of this!
Tomato Salsa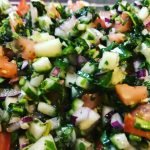 Ingredients
3 medium tomatoes

4 green chillies

1 red onion

1 handful fresh chopped parsley

1 handful fresh chopped coriander

3 inch length of cucumber

1/4 tsp salt

1/4 tsp ground black pepper

2 tsp ground coriander

1/2 tsp garam masala

1/2 tsp ground cumin

juice of 1 lemon
Instructions
Finely dice the tomatoes, onion and cucumber and place in a mixing bowl.
Finely chop the green chillies and add them to the mixing bowl along with the chopped coriander and parsley.
Stir in the lemon juice, ground coriander, ground cumin, salt, garam masala and black pepper.
Serve immediately.
Notes
Remember you can add as little or as many green chillies as you can handle. We're hard core so the more the better as far as we're concerned!