How many of you have seen bone broth crop up in your social media feeds lately? It seems to be all the rage at the moment. We've been eating (or drinking) bone broth for as long as I can remember, it was mums go to 'healing' food whenever we were ill and was a frequent feature to our menu even when we were fit and well. Mum was big believer in using every morsel of food in the house and bones were no exception… money was really tight for us back then.
With everything going on right now it's no wonder we're now looking back at all the natural ways to stay healthy… bone broth being the current favourite. You can buy it ready made, subscribe to a website to provide you with a 'dose' every month or take it in powdered form as a supplement. But why? It's so incredibly easy to make and costs next to nothing, what's more is that you can season and flavour your broth how you like. You don't even need to stand next to it while it cooks, just leave it simmering away on a low heat for a couple of hours and Bob's your uncle (mine's Mohammed).
I'm not even into this whole 'clarifying' and straining business… some annoying, celebrity chef probably decided that it's better to strain your broth 5000 times so it's nice and clear, but again, why? Leave it all in there and eat it, straining it only takes away more of the delicious goodness and is a completely pointless, time-wasting exercise.
Here's my delicious, full of flavour, un-strained, un-clarified, bone broth recipe… that you can have on its own, served with a nice piece of home baked, crusty bread or with a paratha (my favourite).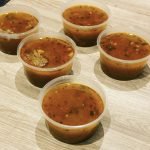 Ingredients
1 kg beef or mutton bones

1 medium onion, roughly chopped

4 tbsp. chopped tin tomatoes

2 cloves peeled garlic

1 thumb fresh ginger

green chillies to taste (optional) I use 2-3

tbsp. butter

1 tsp. garam masala

2 tsp. ground coriander

1/2 tsp. paprika

1/4 tsp. turmeric

2 tsp salt or to taste

4 whole bay leaves

1 large stick of cinnamon

3 black cardamom pods

5 green cardamom pods
Instructions
Blitz the onions, ginger, garlic, chillies (if using) and tomato and place into a large stockpot along with the bones, bay leaves, cinnamon, black and green cardamom pods and 500mls of hot water.
Place on a high heat and bring to the boil, cover then simmer for an hour on a low heat.
Remove lid and stir in the remaining dried spices and salt… (garam masala, coriander, paprika, turmeric), along with the butter. Increase heat and allow butter to melt.
Pour in 2 litres of hot water, bring back to the boil then cover and simmer on a low heat for another hour or two if you can.
Once done, serve with a sprinkling of fresh coriander leaves (if you like) with your choice of bread, roti or paratha… or have it on its own.
Notes
You can add more water if you like, just adjust the salt to your taste and you may need a little more of the ground spices depending on the strength of flavour you want. I tend to make mine in this quantity simply because we will eat half of it and I will freez the rest in portions so that we can have more as and when we want.