So named because these little suckers were eye wateringly good. Do you ever get bored of making the same stuff over and over again? Me too, that's why I changed up the ingredients, which basically means I chucked in a load of stuff and hoped for the best. Lucky for me this chicken was banging. It's not quite a curry and not quite a tagine… it's in-between (I really don't know what's going on with my words today 🙂 ). Have a go, see what you think!
Thigh Spice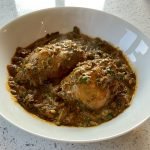 Ingredients
olive oil for cooking

6 chicken thighs on the bone

2 medium onions, diced

1 thumb ginger, peeled and chopped into tiny french fries

2 cloves garlic, peeled and crushed

1 tin chopped tomatoes

1 large stick cinnamon

1 tsp cumin seeds

1/2 tsp ground cumin

salt to taste (I used 1 1/4 tsp)

2 tsp ground coriander

3/4 tsp sumak

1/2 tsp paprika

juice and zest of 1 lemon

1 cup yoghurt

red chilli flakes to taste (I used 1 hpd tsp)

10-15 sprigs of fresh parsley, chopped

4-5 sprigs fresh coriander, chopped
Instructions
Heat a little oil in a pan (I used a tagine but a normal pan will do).
Stir in onions, cinnamon stick and lemon zest and allow onions to brown and soften gently on a low heat for 4-5 minutes.
Add cumin seeds, garlic and half the ginger, cook on medium heat for 30 seconds.
Place chicken thighs in the browned onions. Cook chicken until sealed on the outside.
Stir in chopped tomatoes, ground cumin, ground coriander, paprika, sumak, salt, yoghurt and chilli flakes, Cook on a high heat until combined fully and chicken is fully coated.
Reduce heat to low, cover and simmer for 35-40 minutes or until chicken is fully cooked.
Stir in fresh coriander, parsley, remaining ginger and the lemon juice. Serve hot, with a nice pilau rice or quinoa (my favourite).
Notes
Stirring in the fresh ginger at the end gives a lovely crunch in the sauce and a really good burst of flavour. If you're not a fan of ginger then you can add it all in at step 3 so it cooks and softens in the sauce.