Anyone that knows me, knows that if there's one thing I can't stand it's waste. So imagine my dilemma when I find 3 leftover chilli salmon fillets in my fridge, just begging to be eaten! But who wants to eat salmon twice in one week? I'm great at making pasta bakes out of ANYTHING so that's exactly what I did. A great way to use up leftovers instead of throwing them in the bin.
Salmon and Vegetable Pasta Bake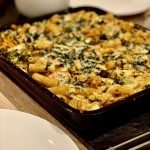 Ingredients
3 tbsp olive oil for cooking

2 onions, diced

1/2 tin chopped tomatoes

3 cloves garlic, crushed

Salt to taste

3/4 tsp ground black pepper

1 tsp dried oregano

3 fillets of cooked salmon

6-8 small broccoli florets

6-8 small cauliflower florets

1 large carrot, sliced julienne

1 tbsp cream cheese

300mls double cream

500g pasta

1 small bunch fresh basil, chopped

100g cheddar cheese, grated
Instructions
Fry the onions in the olive oil until golden brown.
Stir in garlic and cook on a medium heat for 1 minute.
Stir in tin tomatoes, salt, pepper and oregano, cook for 1 minute.
break salmon up into small pieces and gently stir into the sauce.
Add the broccoli, cauliflower and carrots, stir into the sauce, cover pan and simmer on a low heat for 10 minutes.
Preheat oven to 230 degrees.
Meanwhile boil pasta, drain stir in a little olive oil to stop it sticking and set aside.
Remove lid from the pan with the sauce, stir in cream cheese until melted and then stir in double cream. Increase heat and bring to the boil. Then remove from heat.
Stir boiled pasta into the creamy sauce until fully coated. Transfer to a baking dish, Sprinkle on fresh basil and grated cheese and bake, uncovered in the oven for 3-5 minutes.
Serve with a side salad, garlic bread and/or chilli roasted potatoes.
Notes
Keep the pasta firm, it will soften a little more while it bakes in the oven. Chop up some fresh green chillies, and sprinkle over the top for some extra hell fire to liven things up!