Courgettes are growing like crazy in the UK at the moment and my dad keeps bringing his crop to me. I've made courgette soup and ratatouille so now I'm moving on to Toori or Courgette Curry. It's not to everyones taste, but we love pretty much any vegetable curry in this house so I thought I'd share this recipe with you.
Toori (Courgette Curry)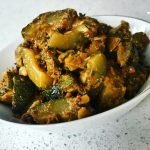 Ingredients
2 tbsp butter or equivalent amount of oil

2 tsp black mustard seeds

2 kg chopped courgettes

3 medium white onions roughly diced

4 chopped green chillies (optional)

3 cloves garlic pureed

1 inch ginger peeled and pureed

1 fresh tomato blended

1 tsp garam masala

3 tsp ground coriander

1/2 tsp ground cumin

2 tsp salt or to taste

3/4 tsp paprika

3/4 tsp curry powder

3/4 tsp red chilli powder

1/4 tsp turmeric

2 tbsp natural yoghurt

2 handfuls of fresh chopped coriander
Instructions
Melt the butter or heat the oil and stir in the mustard seeds until they start to pop.
Add the chopped onions and fry on a low heat until translucent.
Stir in the garlic, ginger and green chillies and cook until you can no longer smell the raw garlic…takes about 2 minutes.
Add the yoghurt, tomato and all the spices and salt and stir in thoroughly and cook for a further 2 minutes.
Stir in the courgettes until coated with the sauce all over, cover and simmer on a low heat until cooked through.
Finally stir in the fresh coriander and serve with hot buttered chapattis and dollop of yoghurt on the side. Yum!
Notes
The length of cooking time may vary. If there is too much liquid released from the courgettes then you may need to crank up the heat and remove the lid so that the excess liquid can reduce down. You don't want a watery mess! Conversely if there is no liquid in the pan while you're cooking the courgettes you may need to add a little to help it along. Take care not to stir too frequently during cooking as this will cause the courgettes to break up. If you're vegan just substitute the yoghurt with a vegan alternative (I like coconut yoghurt) and use oil instead of butter.